The Sun Tunnels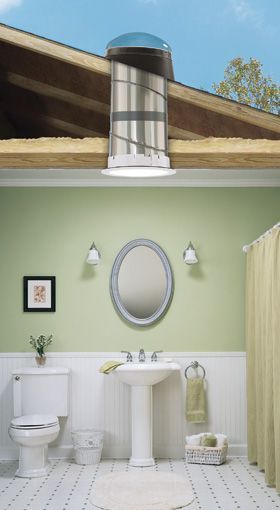 By choosing VELUX Skylights and Sun Tunnels, you are choosing the brand that delivers the highest quality and most reliable products on the market.
list of the Sun Tunnel's key features and benefits:
> An energy efficient source of bright and natural light
VELUX's solution for bringing natural light into a smaller room that doesn't require ventilation or a view to the outside. The VELUX Sun Tunnel is Energy Star approved for use in all Canadian Zones,
as well as NFRC and Hallmark Certified.
> Superior Weatherability
A neutral grey color, our flashing system is one seamless piece of G90 galvanized sheet steel, finished with a durable powder coat. Installed with our thick acrylic UV resistant dome, the exterior components will retain their attractive appearance year after year.
> Easy and Fast installation
Detailed instructions requiring no structural changes are provided with every Sun Tunnel kit, making it a quick and tidy install for any renovation.Customers will benefit by choosing Donnelly Skylights, a VELUX VIP Elite Skylight Specialist, guaranteeing a peace of mind installation, and a minimum of 10 years warranty on their installation.
> Dual frosted diffuser provides even light distribution, preventing hot spots
An acrylic diffuser system with airtight Santoprene gasket maintains the continuity of your thermal barrier at the ceiling level, eliminating the need to insulate the tunnel inside the attic. Below ceiling level, the rubber gasket minimizes the likelihood of condensation and heat loss.
> 10 year warranty against manufacturer's defects, rust, corrosion and deterioration
Customers around the globe benefit from the no-hassle warranty backed by a company with more than 70 years in the industry.With more than a dozen tubular skylight models to choose from, the VELUX Sun Tunnel is more versatile that ever, enabling an install on all roofscapes 0-60 degrees.