Commercial Sun Tunnels
Rigid Sun Tunnel (Solid aluminium with a 99.8% reflective surface)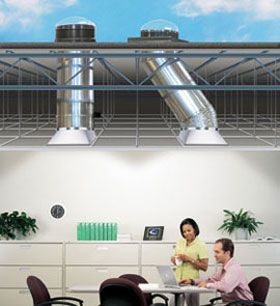 Can be installed in almost any circumstance with elbows.
Comes in two sizes: 14″ and 22″
14″ light coverage up to 325 sq. ft.
22″ light coverage up to 400 sq. ft.
Applications:
Open ceiling areas
T-Bar ceiling areas
Drywall ceilings
Roof types:
Commercial & residential flat roofs
Sloping roofs up to 7.5/12
For flashing, components and accessories Call Donnelly Skylights for detailed information.