Get in touch with Today!
Phone:
(250) 924-8828 or 1-877-333-1866
Address:
4447 Yellow Point Rd, Ladysmith, B.C. V9G 1G5
Map
Be sure to enter our draw …. Good luck.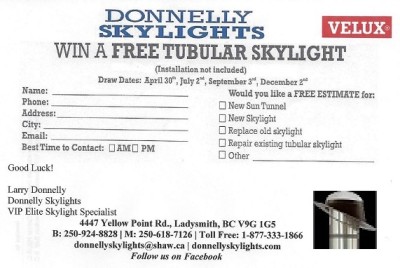 Financing is available and Donnelly Skylights offers a financial payment plan suited to your needs.
Privacy Policy: 
When you provide Donnelly Skylights and Donnelly Home Repairs with your contact information; name and email address on our website, you can be assured it will not be shared or sold to any third parties but will be retained for the sole purpose of corresponding with our clients.